good blade good price
This seems to be a sturdy strong blade. The only draw back (if you can call it a draw back) is it's heavier than expected but then, I am used to mid weight blades. It does mess with the balance of my saber. No diffusser cellophane in the blade but its thickness difusses the light well enough without it. price was good and then on top of it, it was on sale and shipping was less expensive than other sellers. So overall - good blade - good price
Great quality!
These blades have improved since the first ones I bought in 2019! The LED lights shine brighter and more consistently through to the end of the blade than the older version. Very luminescent, sturdy, and well balanced. I will always buy from Kyberlight!
For making the short saber.
I bought the kyberlight V5 on Founding site [Capmfire]. But my saber will reach to me on october.
I bought a good blade for this.
Thank you.
Excellent Dueling Blade
In terms of being built to do what it's advertised for, it's excellent. You'd have to actually legitimately try, in order to manage to break the blade. It's as tough as they say. So, so long as you don't go hitting a brick wall as hard as you can over and over, it's not going to break.
In terms of how well the blade displays colors when used with the Kyberlight, (V5 at the time of this review) Blue, Red, and Green are *very* bright and vivid. Some colors that are made by mixing others, ( like yellow ) tend to have some bleeding/falloff issues. That's easily solved at home, see my next paragraph.
Stock, these blades aren't diffused, so you will see color bleeding/mixing when using colors like yellow. (I.E. The bottom half of the blade will be yellow, as you'd expect, but with orange streaks throughout the blade, and the tip will be green, due to the green and red light that are being projected from the saber's RGB LEDs to make yellow, escaping the blade at varying speeds/amounts that differ from one another.) Diffusing a blade yourself is incredibly easy, and takes two seconds to do, and will encourage colors that are created using RGB combos to evenly mix throughout the blade, making them a standout solid all the way to the tip. If you use Red, Blue, or Green, then you don't have to worry about that, as I said above. If your main color is yellow, (like mine) then I recommend getting some 5-10$ cellophane from your local store. I'd say a roll with a width of 40" as that will cover all lengths of kyberlight blades. (currently 24" to 36") A single cheap roll would let you diffuse dozens or hundreds of blades. Youtube has a simple short tutorial for how to insert the cellophane into your blade, it requires no glue or anything, and takes, like I mentioned earlier, a few seconds at most.
I'm still going to leave a 5 star review, as diffusal of the blade is easy to do at home if your favorite color happens to be yellow, and the blade itself is perfectly suited for combat as advertised, and is also one of the only blades that I know of that comes with a lifetime warranty. They'll replace your blade with basically no questions asked if you manage to break it somehow, and their customer service is quick. Very quick, like they usually get back to me within minutes, not days or weeks like other saber makers. *Looking at you, SaberForge.*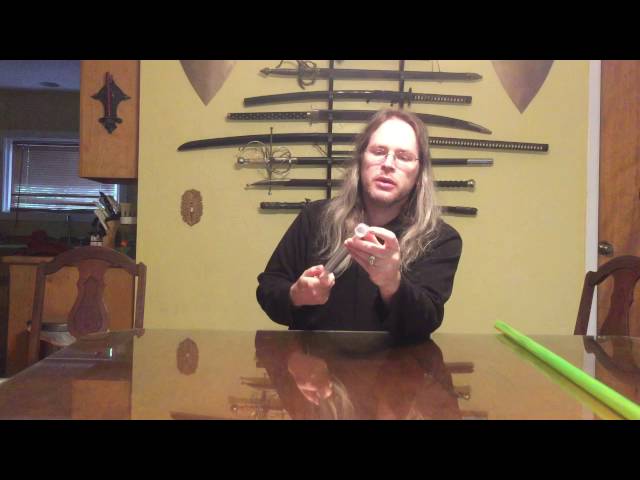 Great blade
The blade holds up great at full combat. They look good, and I'm never concerned that they will damage too easily.